Most parents don't know how much time children spend on their smartphone or tablet
You've probably heard that spending too much time with a tablet or 

cell phone is bad for babies and children

 .
You've probably already told yourself that when you have kids you won't let them spend so much time in front of the braces.
But if you have kids, you know it's not that easy to get them to be quiet or keep themselves entertained.
This is even worse in the context of the new coronavirus pandemic , where everyone needs to spend more time at home, which can leave children bored and restless.
So, the solution found by some ends up being letting children use their smartphone or tablet to play a game or watch a cartoon.
Study surprises
But, according to what a study published in the journal Pediatrics indicated , parents may not be so aware of how much time their children spend in front of an electronic device such as a smartphone or tablet.
The survey, which was funded by Children and Screens: The United States Institute of Digital Media and Child Development, found that the average daily use of devices by children assessed in the study who had their own devices was 115 minutes . .
This study included the participation of 346 parents and guardians of children aged between three and five years old. Finally, the work was done by collecting samples from mobile devices.
The researchers used a tracking app that sent information about device usage to a database, in the case of Android devices.
In the case of iOS devices, the researchers asked parents to take screenshots of data from the devices about the time logged and the types of applications.
When the team crossed the numbers, they realized that 35% of parents thought their children spent less time in front of the screens . For another 35%, they believed that their children spent more time with the braces than they did.
According to lead author of the survey, Jenny Radeski, the design elements of mobile devices make it difficult for parents to monitor.
"They're these little screens in front of kids' noses and we're not watching with them the way we would a TV screen. They (the devices) are more interactive and immersive ," added Radeski.
The Problems of Overuse of Smartphones and Tablets
As psychotherapist Mayra Mendez warned, the age of children evaluated in the study is crucial for optimal brain development.
"If you have a lot of screen time, you can interrupt or break some of the natural sequences of healthy brain development," he warned.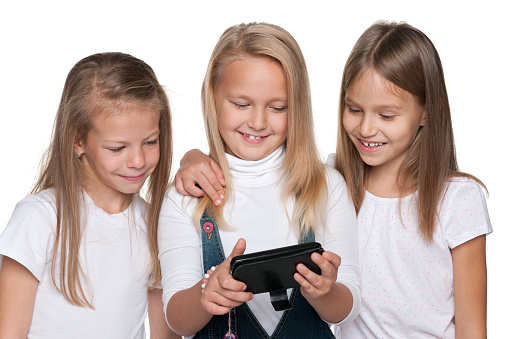 Mendez also warned that, for some children, too much time in front of the screen can disrupt verbal skills and logic.
"They're looking at a screen and there's a kind of hypnotic effect. There is a lack of social interaction. Social and emotional development are critical in these early years" , added the psychotherapist.
Behavioral and developmental pediatrician and assistant professor of pediatrics at Harvard Medical School in the United States, Elizabeth Harstad, recalls that while children are in front of the screen, they are not playing and interacting with others.
According to Harstad, playing is important to help children develop their problem-solving skills.
"Playing helps children practice using their imagination, planning, organizing and working or getting along with others. Screen time usually involves the child staying in one place and not moving too much. It is healthier for them to move their bodies while they play and learn" , completed the pediatrician.
The content accessed by the little ones also drew attention
The study noted that the most commonly used apps were YouTube Kids , web browsers, Quick Search Box , Siri and video streaming services
However, lead author of the survey, Jenny Radeski, reported that the amount of inappropriate apps she and her team found was surprising.
Radeski, who is also a pediatrician and assistant professor at the University of Michigan Medical School, in the United States, said that apps were found that were not intended for 3 or 4 year olds, and that some were violent and scary games.
"We really wanted parents to be aware that these scary and violent apps were very accessible to kids ," commented Radeski.
The study also showed that young children used hundreds of different apps, including those intended for an adult audience, such as gambling apps.
Is it being challenging to spend so much time indoors during the pandemic? So, see how to talk to kids about the new coronavirus without panic and learn fun recipes to make at home with kids during quarantine .